Children Welcome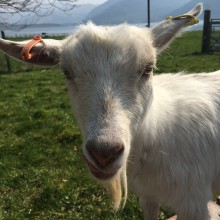 Highland Croft is a great place for a family holiday, especially for children, with limitless things to do and enjoy. Being able to enjoy the croft and animals including feeding the hens and collecting eggs always brings a smile to our guests faces, small and not so small.
The croft is fully fenced and child friendly, with tabled seating area and children's play area with trampoline and sandpit. Of course the whole family can enjoy a stroll along the shoreline in front of the croft, taking in the sea air as close as it gets.
If everyone is feeling more adventurous you can take advantage of many child friendly attractions nearby like Nevis Range High Wire Adventure. Maybe try some skiing or sledging if you come in winter.
For a more relaxed day out visit the Oban Sea life Centre, guaranteed to captivate young and old.
There is so much to do in our area! and we are always happy to help with advice..just ask!